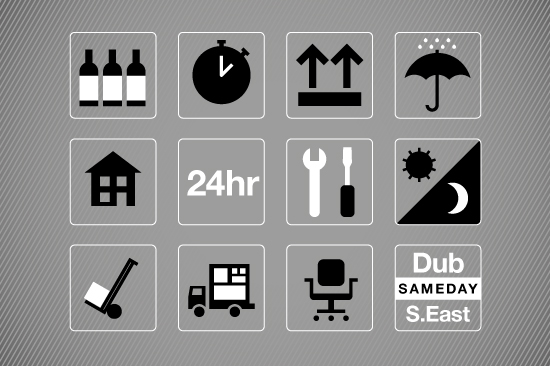 Specialised Delivery Services
Wine Delivery Ireland

We have a wealth of experience in delivering wine, beer and spirit consignments throughout Ireland's South East. We specialize in timed deliveries to restaurants, bars, pubs and hotels. We are delighted to hear that one of our clients was recently voted 'Best Retailer, Worldwide' in the 2013 World Whiskey Awards.

Day and night line-haul services

We provide point-to-point, line-haul delivery solutions for client supply chains.

Home delivery and installation

We also provide a timed home delivery service for a wide range of consumer goods including, electrical, fashion, furniture and gifts.

Home and office removals services

Moving home or office can be a stressful and daunting task. We will provide vehicles and a team of drivers and loaders to ensure your move is completed quickly and efficiently, with care and consideration to any destination throughout Ireland, the UK and Europe.

Guaranteed next-day delivery Ireland

All consignments are guaranteed to be delivered by 5:00pm the next business day (Monday to Friday) once your order is placed by 12:00pm.

*NEW* Same-day Dublin-to-Southeast and Southeast-to-Dublin daily delivery service

Call us on 087 9760708 to find out more.